Your church's homepage is the first page visitors will see when they arrive on your site.
You can edit the church's homepage to include useful information for the church community and new visitors.
How to edit the homepage
Open your church in editor view, so you can see the editor menu. Show me how.
Click on homepage, names and logos in the editor menu.
Edit all the fields to customise your church's homepage.

Friendly church name: Edit the name of your church on your homepage. Please note this does not change the legal name of your church.
Logo image: Upload a logo to display to visitors when visiting your church's page. If you do not have a church logo, visit Digital Labs for advice.
Church building image: Upload a photo to help visitors find the church.
Cover photo image: Upload a photo to display at the top of the homepage in visitor view.

Image size information here

.
Homepage gallery:

Click 'show image library' and make sure that all the images you'd like to appear on your homepage gallery have a tick next to them

.

If not click the checkbox next to each image you want to use. If you haven't put any images in your image library yet, you won't see anything.

How to add i

mages to your image library.

Page content: Write a welcome message in the page content box. Format the text in bold, underline, italics or to add a hyperlink, use the cursor to highlight the text and open the text format menu. From the text format menu, select the chosen formatting to apply it to the selected text.
"What's on" panel: Use the dropdown to choose an event to display on the homepage. Choose either the next event on the calendar or a specific upcoming event.
"News" panel: Use the dropdown menu to choose a news story to feature on the homepage. Choose either the latest article published or a specific news article.
Charity and donations: Use the text box to enter your PCC charity number which will display on the footer of your site. Leave the field empty if you do not have a PCC charity number.
Safeguarding: Include a short statement about safeguarding. There is a suggested paragraph approved by the National Safeguarding Team in the text above the page content box. If you wish to use this, copy and paste the text into the page content box.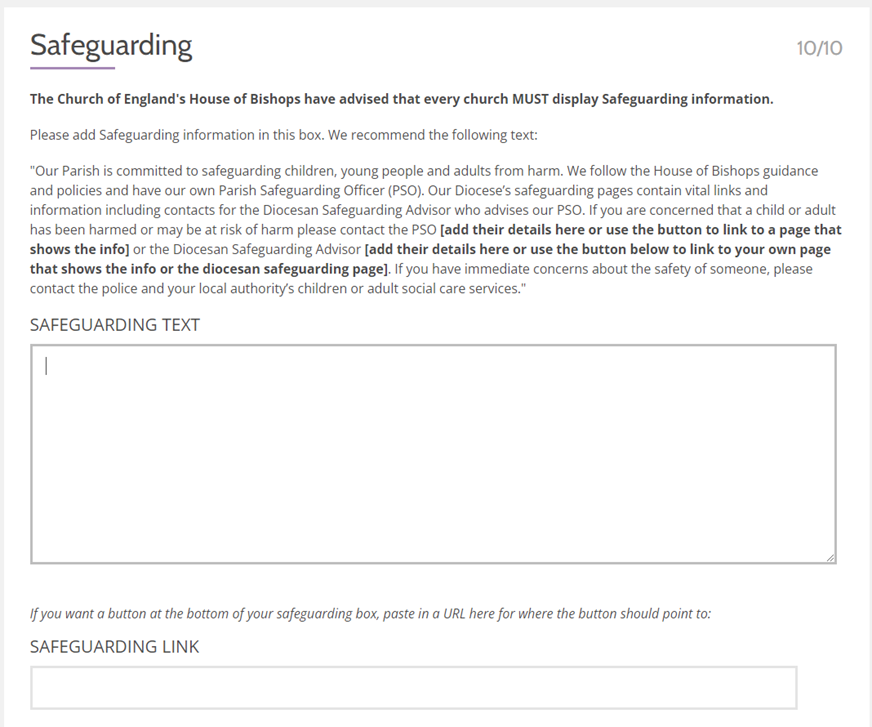 Once complete, click save at the bottom of the page.
To add social media links to your homepage, click on social on the editor menu, paste in links to any social media accounts your church has, then then press save.
You can also add an online donations button to your homepage.