If you wish to select which specific News Story, or Service / Event appears on your church's homepage, other than the most recent one (which is the default setting) you can change this in the 'Edit Your Homepage' section of your Church's page. Once logged in to your churches page, click on the pencil next to your churches name, and this will open the 'Edit Your Homepage' form.
Scroll down to either the 'What's On' Panel (for Services and Events) or the 'News Panel' (For News Story's) and you can choose either to have the most recent article or event feature on the homepage or you can choose the article or event you want instead. Once you have made your choice, scroll to the bottom of the form and click the 'Save' button in the bottom right hand corner.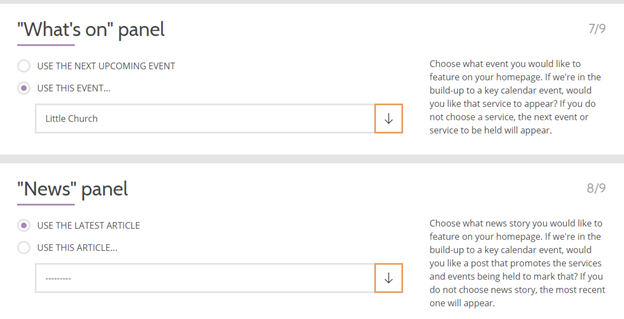 On Mobile: Once logged into your church page on your device, scroll down past 'Analytics' until you reach 'Homepage' and click the grey pencil to the right, then follow the instructions as above.